My goal by age 30 was to hit $1,000 passive income per month. Back when I set the goal, I was aiming targeting passive income from stocks alone.
But alas, given my inactive stocks monitoring and purchase, it's really tough to hit that passive income. It is impossible at this stage for me to hit that goal, but I'll still work towards it.
In any case, I'm 50% there....by counting in interest gained, rebates/cashback and dividends.
Since Jan 2020 to Apr 2020, I've been generating good returns. The breakdown is below.
What constitutes those returns you may ask? Taking March 2020 as an example, here's my frank sharing of the various sources of income:
1. Stock Dividends
Showing the list of stocks I've in Mar 2020- yup, I'm heavy on REITS.
| | | | |
| --- | --- | --- | --- |
| Company Name | Symbol | Shares | Amt |
| CapitaR China Tr | SGX:AU8U | 5,000 | 180.5 |
| EC World Reit | SGX:BWCU | 3,000 | 45.3 |
| First Reit | SGX:AW9U | 3,000 | 64.5 |
| Mapletree NAC Tr | SGX:RW0U | 3,000 | 50.13 |
| | | Total | 340.43 |
2. Interest from bank saving accounts
I've money parked in various savings accounts.
3. Etiqa - ELASTIQ 2.02% p.a plan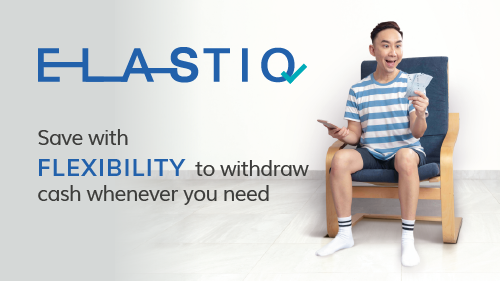 Back in 2019, I shared about my purchases
here
and
here
. I had initially parked only $5k, but decided to up another $5k.
I've mentioned how easy it is to apply and how simple the platform is. Checking my monthly returns is super easy via the site. PLUS it sends me an sms every month😱, informing me of the interest gained! Here's a snapshot of the interest I gained since Jan.
Unfortunately, the 2.02% plan is no longer valid. However, the existing rate at 1.80% is still attractive given the low rates offered by fixed deposits or bonds! You can read more about the plan
here
to do your own research.
The alternative is the Tiq 3-Year Endowment Plan that gives 2.10% p.a. I'm not vested in this yet, so you can do your research in the link below.
If you do intend to purchase, rmb to key in my code to get Etiqa eWallet credits worth 0.5% of policy's premium value as a sign-up gift for the ELASTIQ plan while I get a $50 voucher 😛
R104346
4. Singapore Savings Bonds
Received only $4.10 in Mar, for the Sep 2019 (1.65%) tranche where I bought only $500 haha. Back then, that tactic was to build the DBS Multiplier ladder. Alas, that route has been cut.
This is the lowest amount I've put in. In total, I've $38,000 parked in SSBs which I built since Oct 2015 😉
5. Singsaver Citibank credit card sign-up

I jumped onto the ship the moment I saw a
free $350
dangling in front of me. Since I had never signed up for Citibank cc before, this was the best time to do so! The sign-up offer is now at
$200
, but still better than none!
While this is an one-off gain, it is still good money. Always look out for sign-up offers for cc signups!
6. Milieu Survey
This took some time before I successfully cash out, but hey, just by spending a few minutes each day, I managed to cash out $20! Plus, the surveys are simple and fun - if you tried other surveys, you'd realise how tedious it is to digest and fill the form - not Milieu - the UX is great as well. Totally recommend this.
I've gained another 5,000 points that's equivalent to $5, but I intend to clock more to cash out at lesser points!
If you are keen, download the milieu app at Google Playstore or App Store and sign up using my code:
T7QXTZ
7. Shopback
I'm sure Shopback is now a household name and needs no introduction. Again, another accumulated gain, but why not get something back while you spend?
Cashed out $50.04
, mostly from my
11.11 spending
for my home. Some household items bought can be found
here
.
8. Carousell
Lastly, another household platform to cash out $ from unused or preloved items. Just in Jan 2020 alone,
I received $1,018 cash
from selling items, including 1 Dyson V8 at $400. Mar 2020 was the lowest cash-out at $41.
But given this Covid situation, I've not been getting much queries from buyers.
That's it!
I hope to continue the lucky streaks and update my progress again. If you have any other income sources, feel free to comment!